THE ITCH WANTED SOMETHING
IT WANTED TO HEAR STORIES
BECAUSE WE ALL HAVE AN ITCH
WELCOME TO BARBARAS WORLD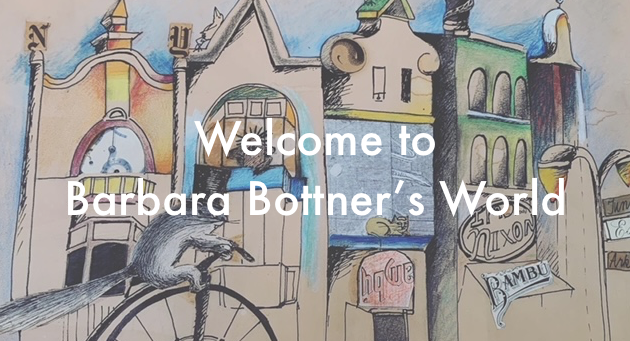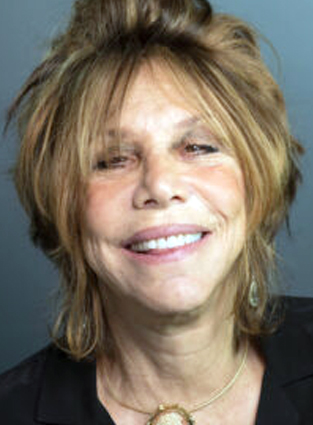 BARBARA BOTTNER
American Author & Artist
Barbara is an American author and artist who has published over fifty children's titles in all areas of children's literature, including YA, Middle Grade, chapter and I Can Read and picture books. She illustrated her early stories. Many of her works have been animated and performed as children's theater. Miss Brooks Loves Books, was a New York Times best-seller. She's received numerous awards, appeared on many "Best Of" lists from Amazon, Bank Street, SLJ, and Children's Choice Awards as well as awards for her animated films for Sesame Street. "Best Film for TV, from Annecy France animation festival. Scaredy Cats was a One Book, One Community pick for Dade County, Florida in 2003.   She's an award-winning teacher of writing for children,. The New School for Social Research gave her the Distinguished University Teaching Award. She's also written primetime TV comedy, features, short stories for national and literary magazines, essays, animated shorts, lyrics, book reviews and scholarly articles. Her papers are collected in the Arne Nixon Center for the Book in Sacramento.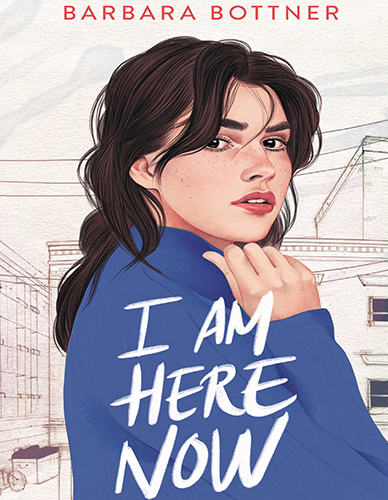 OUT NOW!
Young Adult Novel
I AM HERE NOW:
A beautiful young adult novel in verse set in the 1960's about one artist's coming of age. It's a heartbreaking, powerful and inspiring depiction of what it's like to shatter your life―and piece it all back together. You can't trust Life to give you decent parents, or beautiful eyes, a fine French accent or an outstanding flair for fashion. No, Life does what it wants. It's sneaky as a thief. Maisie's first day of High school should be exciting, but all she wants is to escape. Her world is lonely and chaotic, with an abusive mother and a father who's rarely there to help. So when Maisie, who finds refuge in her art, meets the spirited Rachel and her mother, a painter, she catches a glimpse of a very different world―one full of life, creativity, and love―and latches on. But as she discovers her strengths through Rachel's family, Maisie, increasingly desperate, finds herself risking new friendships, and the very future she's searching for! CLICK TO VISIT BOOK!
FAN CLUB MEDIA CORNER FEATURE: MISS BROOKS LOVES BOOKS
This Month we are posting a homeade song & a video illustration submitted from two fans!
CHECK OUT THEIR WORK and Click here to learn more about how you too can submit your own work for a chance to win one of many prizes!
Miss Brooks Loves Books!
Author: Barbara Bottner
Illustratrator: Michael Emberley
With the help of Miss Brooks, Missy's classmates all find books they love in the library–books about fairies and dogs and trains and cowboys. But Missy dismisses them all–"Too flowery, too furry, too clickety, too yippity." Still, Miss Brooks remains undaunted. Book Week is here and Missy will find a book to love if they have to empty the entire library. What story will finally win over this beastly, er, discriminating child? William Steig's Shrek!–the tale of a repulsive green ogre in search of a revolting bride–of course! Barbara Bottner and Michael Emberley pay playful homage to the diverse tastes of child readers and the valiant librarians who are determined to put just the right book in each child's hands.
Track #7 "Fair is Fair" 
Fair Is Fair is a 1978 Sesame Street concept album dealing with topics such as getting along with other people, talking to people politely, and what to do if you hurt somebody's feelings.
Track #8 No Song
Featuring Oscar the Grouch!